apa ya terjemahan yang enak untuk 'breaks the internet'?, karena artinya bisa lebih dari satu.
breaks dalam arti merusak, menghancurkan
atau breaks dalam arti menggegerkan.
jauh sebelum ralph – si perusak – merusak internet, sudah banyak orang atau sesuatu yang (dianggap) melakukan 'breaks the internet'.
karena penasaran, berikut beberapa yang bisa gue capture dari google.
yang paling awal bisa gue temui adalah di tahun 2001, star wars VII

yang kemudian jauh ke tahun 2006, baru ada lagi yang 'breaks the internet', kate moss

lalu 3 tahun berselang, tahun 2009, michael jackson breaks the internet

setahun kemudian, lady gaga, 2010
tiga tahun berlalu, barulah ada breaks the internet lagi, oleh beyonce

dan mungkin yang masih sangat diingat adalah kim kardashian di tahun 2014

dan nyaris setelah itu selalu ada aja yang dianggap 'breaks the internet'
dan yang terakhir tentu ralph, wreck-it ralph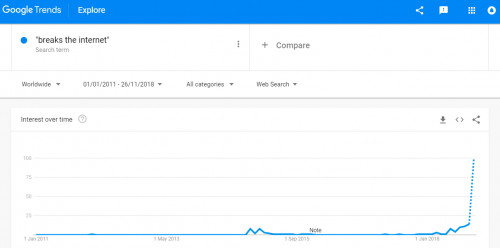 dari google trends terlihat istilah 'breaks the internet' mulai menaik di awal 2018, dan diperkirakan masih akan naik lagi sampai tahun depan.
tapi dari sekian 'break(s) the internet' tersebut ada satu yang paling gue suka, yaitu jane barber, 2008
this is the best 'break the internet' ever :D hillarious!